Manavgat Waterfall River Cruise from Side prices
| | |
| --- | --- |
| Operating Days | Monday, Thursday |
| Transfer | Transfers not included. Contact for pricing details. |
| Inclusions | Insurance, transportation, lunch |
| Additional Costs | Personal expenses, ice cream (optional), entrance to Manavgat Waterfall (optional), drinks |
| Don't Forget to Pack | Towel, swimsuit, sunscreen, sunglasses, hat, sandal |
Experiences Manavgat Waterfall River Cruise from Side
Shopping opportunity in Manavgat Bazaar.
You will take photographs by making the Manavgat Waterfall as your background.
You will see the trout farm closely.
You will be at the point where the Manavgat River meets the sea.
Manavgat Waterfall River Cruise from Side Tour Itinerary
You will be picked up from your hotel in Side and set off towards the Manavgat River pier.
When you arrive at the pier, you will be guided to the boat by the tour guide.
When you get on board, you can ensconce anywhere you want.
You will be informed about the tour by the tour guide before the boat leaves the pier.
Music will begin when boat leave pier.
You will sail along the route where the Manavgat River is lined with lush trees. You willbe able to shoot great photos and videos.
You will reach the point where the Mediterranean and the Manavgat River meet.
You will have swimming breaks and lunch break.
Magic and animation shows are performed for children.
You will leave from the point where the river and the sea meet.
Second swimming break is given.
You will move towards to the Manavgat Pier.
The third swimming break is given.
You arrive at the pier.
You visit the Manavgat Waterfall. For those who do not want to visit, they set off towards Manavgat's famous market with service vehicles.
Free time is given in Manavgat Bazaar for 2 hours.
When you leave the market, you will be dropped back at the hotels you stay.
Tour Overview Manavgat Waterfall River Cruise from Side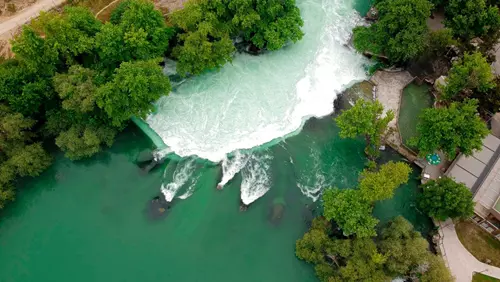 A boat tour event that families with children will be able to participate.
You will have lunch by enjoying the view of the Manavgat River.
Swimming break is given several times.
With DJ performance, you will cruise in open seas accompanied by music.
Lunch is served as open buffet.
There are sinks, toilets, dressing and shower cabins on the boat.
There are sales of ice cream, popcorn, etc.
You will have opportunities to take good photos and videos on the Manavgat River.
You will visit the famous market of Manavgat and you will have 2 hours of free time.
Other Tours...
Manavgat Waterfall River Cruise from Side Reservation Form