Alanya City Tour from Side Price
| | |
| --- | --- |
| Tour Days | Wednesday, Friday |
| Included | Insurance, transportation, lunch, boat trip, tour guide, Kızılkule and Alanya Castle entrance tickets |
| Excluded | Personal expenses, drinks, Damlataş Cable Car (optional), Damlatas Cave (optional) |
| Bring with You | Comfortable shoes and clothes, water, sunglasses, hat, sunscreen, towel, swimsuit |
Experiences of Alanya City Tour from Side
You will attend to the famous boat tour activity of Alanya.
You will see the historical buildings and artifacts of Alanya Castle.
You will visit Damlataş Cave, where 4 thousand asthma patients healed.
You will stroll through on the historical streets of Alanya peninsula.
You will take photos from a hill where you can see Alanya from a bird's eye view.
You will visit the caves of the Alanya peninsula, which cannot be seen from the land, by boat.
Program of Alanya City Tour from Side
You will be picked up from the hotels you stay with service vehicles and set off towards Alanya.
When you arrive in Alanya, you will be taken to Kaleici Yacht Harbor.
Once you arrive at the port, you will go on a 1-hour boat tour before visiting the city. During the boat tour, you can see Alanya Old Shipyard, Kizil Kule and Cleopatra Beach from the sea.
On the mountain where Alanya Castle is located, you will visit Pirates, Lovers and Phosphorus Caves.
After 1 hour boat tour, you will return to the port.
You will go to Kızılkule from the harbor.
You will visit Alanya Castle.
You will walk in the streets of the castle.
On a hill with panoramic views of Alanya, you will take a break for photos and video shots and enjoy the view.
You will go to Dim River.
You will have a pleasant lunch in a restaurant which built on platforms on the river stream.
You will have 2 hours free time in Alanya city center. During this time, you will be able to shop and stroll through the beautiful streets of Alanya.
Then you will go to Damlataş.
You will visit Damlataş Cave.
You will visit banana orchards.
You will return to Side.
When you arrive in Side, you will be dropped off to your hotel.
General İnformation About Alanya City Tour from Side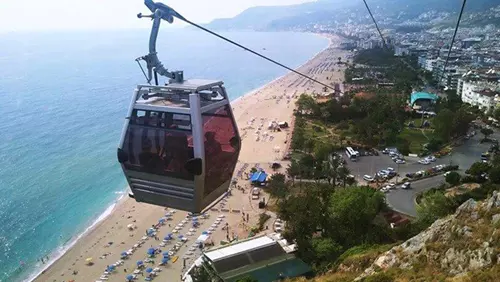 Your journey from Side to Alanya will take about 1 hour.
A city tour that families with children can also attend to.
You will visit the historical and famous places of Alanya that should to be visited.
In this city tour program, there is also a boat tour activity.
When you visit Damlatas Cave, you will be able to spend a little more time for healing.
You will not only see the world famous Cleopatra Beach and take a walk. If you want, you can swim in the sea and enjoy with deep blue and clear waters.
You will visit Dim River, which is the address for people who want to escape from the heat of Alanya.
You will enjoy of your lunch at Dim River.
You will be informed by the tour guide about all the places you will see. You will be able to ask your questions with peace of mind.
Other tours...
There is no need for a credit card or a prepeyment.
Instant Booking Via Messengers
Book Now Pay on The Alanya City Tour from Side
Alanya City Tour from Side Reservation Form
Fill out the form completely for Alanya City Tour from Side